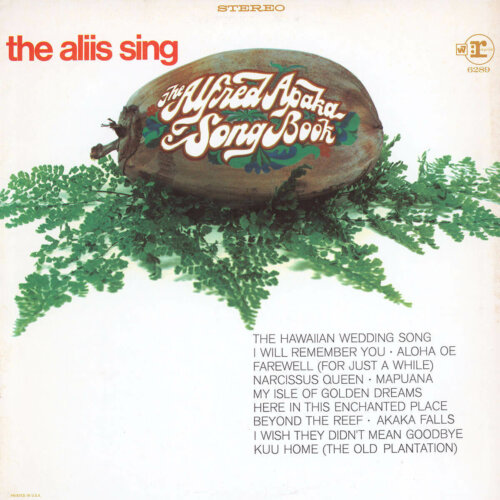 Album Title: The Aliis Sing The Alfred Apaka Song Book
Artist(s): The Aliis
Year:
Genre(s)/Style(s): Hawaiian
Track Listing:
My Isle Of Golden Dreams
Beyond The Reef
Hawaiian Wedding Song (Ke Kali Nei Au)
Farewell (For Just A While)
Mapuana
Old Plantation (Kuu Home)
I Wish They Didn't Mean Goodbye
Narcissus Queen
Akaka Falls (Ka Wailele O Akaka)
I Will Remember You
Here (In This Enchanted Place)
Aloha Oe (Hawaiian Farewell)
Note: Something off? Please submit any album corrections in the comments.
Liner, Listening & Album Notes:
Back cover notes that these songs are "Performed in total freshness by The Aliis – Do Ho's Swinging Companions."
Liner notes:
When Al Apaka died, it took six months before anyone in the Hawaiian Islands could sing "Beyond the Reef" without breaking down.
He had sung that song and made it his own, as he had many others, but it was a strange kind of ownership. A shared kind of ownership. Al Apaka and his songs belonged to each other, and to everyone else in the Islands. For he was their voice. And when that voice was stilled, there was a silence that has yet to be filled.
The shock has gone, but the memory remains. The songs, irresistibly melodic and ripe with island imagery, do indeed become something fresh and exciting when sung by an imaginative, talented group like The Aliis. But at the same time they echo a sentimental past. Your ears may be filled with the sound of The Aliis, but your heart is remembering Al Apaka.
Nor would The Aliis have it otherwise. It was their idea to sing the Al Apaka Song Book.
And they're just the ones to do it.
Musically it all got started several years ago when they were in the U.S. Air Force together. What they did wasn't called Strategic Ground Support, but it could have been, for The Aliis quickly became very important contributors to an ear-happy and body-limber fighting force. Their next hitch, a civilian one, has been for years at Duke's in Honolulu with Don Ho. That was the time and place that The Aliis became a group with a future.
They weren't following in Al Apaka's footsteps; they were taking giant strides of their own. Their voices were as warm and clear as voices should be. And their instrumentation was a familiar one. But underneath it all there was a new beat, a pulse, a feel, that stamped The Aliis as the sound of Hawaii today, making the songs of yesterday the songs of today.
Here now are the songs that Al Apaka sang to Hawaii and to the world, sung again, and as if for the first time, by The Aliis.
The sound of sweet remembrance.