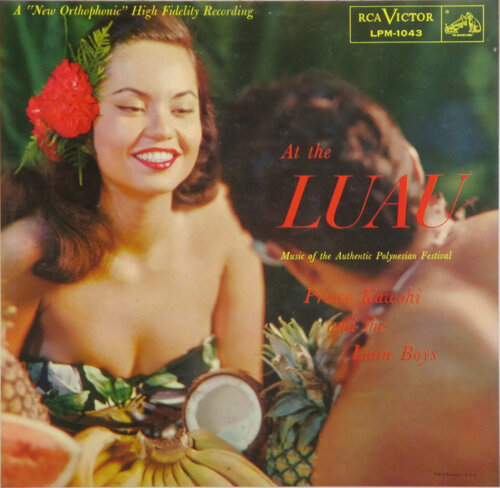 Album Title: At the Luau
Artist(s): Prince Kawohi & the Luau Boys
Year: 1955
Genre(s)/Style(s): Hapa Haole
Track Listing:
Una Una
Oh Kona Kai
No Huhu
The Kumu In The Muumuu
Lei Aloha, Lei Makamae (Song Of Eternal Love)
Look Out For The Girl In The Hula Skirt
Koni Koni
Luau Chant
I Got Hooked At The Hukilau (From The Columbia Film "From Here To Eternity")
Waipio
Lei N'Aia
Farewell Medley: Farewell (E Maruru A Vau); Tofa; Aloha
Note: Something off? Please submit any album corrections in the comments.
Liner, Listening & Album Notes:
Liner notes from the back of the album:
The scene is taken direct from a travel poster with no additions or alterations. Bold, brave colors vie with each other for our attention; a warm tropic wind bends the flowers which grow in riotous profusion along the outer borders, sending their per- fume to our unbelieving senses. Women in gaily colored dresses, men in incredibly gaudy shirts walk among us, offering us a Tom Collins or a Planters Punch, welcoming us in the tradition that has made Hawaii a land of gay and carefree romance.
We are at a luau—a party on the grand scale which can, in reality, be held anywhere, but whose proportions stem to cry aloud for the vistas of the outdoors. It does not matter what we are celebrating—someone's birthday or anniversary, our own arrival or departure—a luau is made to fit any of these events. All that is required is a happy and convivial frame of mind, a letting down of the hair, the kicking over of a few traces.
Just as no luau would be complete without poi, opihis, and lomi lomi, so it must include music —there is certainly no law governing its inclusion—but it is the perfect mixer, not alone of the various courses which follow one another in amazing succession, but of people, too; in its midst we feel closer and gayer, hearing it, we know that there is no other music of like character in all the world.
It is a richly varied music we hear, a music compounded not merely of stringed instruments, but of the sun and air, of the sea and sky that are so integral a part of the Hawaiian scene. We hear a collection of music that is entirely representative of what one might her everyday in any part of the Islands—chants such as Uina Ulna and Lams Chant; sweet ballads such as On Kona Kai, Waipio and Lei N'Aia; the humorous novelties (Look Out for) The Girl in the Hula Skirt and I Got Hooked at a Hukilau.
Here is the spirit, excitement and beauty of a luau—all of it captured in the music which is made to grace its every moment. It is by no means music written especially for a luau, but it is music which may be heard whenever one is in progress. It is, above all, Hawaiian music, and as such is wonderfully applicable to any event which is so much a part of the overall scene.
Under blue Hawaiian skies, with a caressing breeze wafting in off the sea, we cannot but feel relaxed. At the luau we eat too much but that, :titer all, is part of the celebration. And we may drink to excess, but that is our own concern; in the final analysis, it does not require alcoholic stimulants for us to enjoy ourselves on such an evening. All the stimulation required is contained in the magical air, the gorgeous colors, the exciting and exotic music.
At the luau, being entertained by such as Prince Kawohi, we are in that never•never land of the travel poster we all dream about. And even here, the time of farewell must arrive; but, as it does, we bear the music that sends us on our way — 'E Maruru a Vau, Tofa and Aloha — music that bids us goodbye and, in the same breath, asks our quick return.