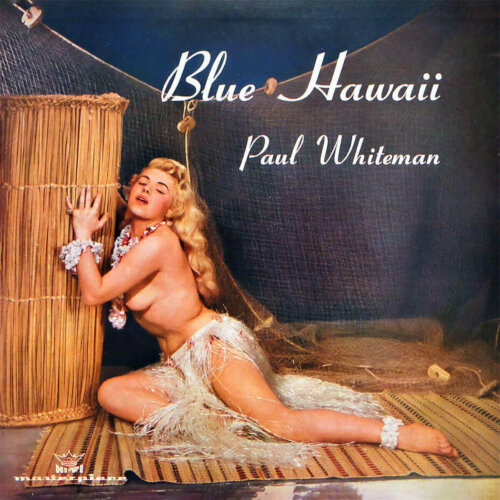 Album Title: Blue Hawaii
Artist(s): Paul Whiteman
Year: 1957
Genre(s)/Style(s): Hawaiian, Hapa Haole, Jazz/Easy Listening, Other
Track Listing:
Aloha Oe
Sweet Leilani
Drifting And Dreaming
On The Beach At Waikiki
Blue Hawaii
Song Of The Islands (Na Lei O Hawaii)
To You Sweetheart, Aloha
Pagan Love Song
My Little Grass Shake (In Keelakekua, Hawaii)
Hawaiian War Chant (Ta Hu Ma Hu Wai)
Moon Of Manakoora
The Cockeyed Mayor Of Kaunakakai
Note: Something off? Please submit any album corrections in the comments.
Liner, Listening & Album Notes:
Thanks to Vic for finding this recording!
"Blue Hawaii" is the Brazilian release of Paul Whiteman's recordings released as "Hawaiian Magic" (with a tamer, more generic cover).
From the liner notes of Hawaiian Magic (the U.S. release of the same recordings):
When it comes to the world of popular music – in fact to the world as a whole — there's nary an orchestra leader who wields his baton with the knowledge and the authority of one of America's truly great men of music maestro Paul Whiteman. Here is a man who is a real cosmopolite. He knows intimately the music, the customs and the people of lands all over the world …people for whom he has no often performed in their native lands… people. who like no many of his millions of fellow-Americans, have acclaimed this genial generous gent for his lasting contributions to the field of popular music. Paul Whiteman, a warm and sensitive person, has learned to respect as well the many !nodes of music that permeate this earth. Through the fifty fabulous years of his career he has heard them •all, and yet today one of his earliest loves still evokes unending enthusiasm. This is the soft and subtly sensuous music of Hawaii, the kind of music Whiteman played even back in the early twenties when one of his biggest recorded hits was a Hawaiian-type air entitled Ka-I,o-A. That was in the days of pip-squeak re-corded sounds. Now, almost two full generations later, the great leader again pays his respects to the music and the people of that far-off Pacific isle—only this time they are etched into the most modern of high-fidelity recorded sounds. On this exclusive Grand Award production, Mr. Whiteman features a large group of lush strings, full and colorful, with bright guitar passages that reflect so splendidly the rich romance of the Haunting music of Hawaii. This is not flashy music, though the re-corded sound is indeed, exceptionally bright and clear. It is instead, warm and full bodied music…tenderly relaxed… tantalizingly romantic. This is music strictly for pleasure: for the pleasure of anyone who would welcome the opportunity to fall under the glorious spell of Hawaiian Magic, and, one suspects, for the pleasure of Paul Whiteman, himself, whose enthusiasm for this special sort of music is mirrored so well in this mighty impressive offering.