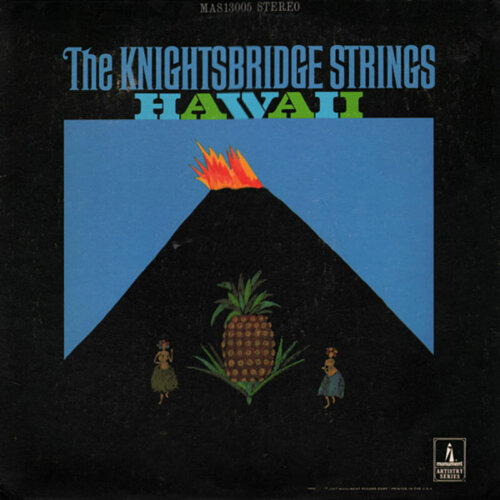 Album Title: Hawaii
Artist(s): The Knightsbridge Strings
Year: 1967
Genre(s)/Style(s): Hawaiian, Jazz/Easy Listening
Track Listing:
Hawaii
Blue Hawaii
Sing Me A Song Of The Islands
Sweet Leilani
Down Among The Sheltering Palms
Trade Winds
The Song Of The Islands
Harbor Lights
South Sea Island Magic
Sleepy Lagoon
Red Sails In The Sunset
Heavenly Hawaii
Note: Something off? Please submit any album corrections in the comments.
Liner, Listening & Album Notes:
Liner notes from the back cover of the album:
Blending the lazy sound of the Hawaiian guitar with one of England's finest exports in recent years (with apologies to The Beatles]-The Knightsbridge Strings. was the task of arrangers Malcolm Lockyer and Reg Owen in London-and top scorer Bill tustis in Hollywood (who frequently works in England), when the assignment came through to select 12 melodies representative of Amer-ma's 50th state. Thus, as your needle dips into the stereo channels of this disc (or through the medium of today's sound revolution via tapes, tape cartridges and cassettes), you'll actually be-somewhere on the islands", as these fabulous Knightsbridge Strings perform. The Pacific surf and Waikiki sand blend beautifully for those lovers. vacationers and even-Hawaiians who take their shoes off and walk along that well-known beach-and contemplate-Diamond Head. Monument Records can bring you there right now as is evidenced by the big orchestral treatments you are about to hear, including Elmer Bernstein's "Hawaii" (the main title theme from the George Roy Hill-Walter Mirisch motion picture production of James A. Michener's -Hawaii"), the ever-beautiful "Blue Hawaii" by Leo Robin K Ralph Rainger. Iwo contributions by lei-topped Harry Owens and his songs "Sing Me a Song of the Islands" and "Sweet Leilani". etc. True, you could jet over to Hawaii via Pan American right now and enjoy everything first-hand, but for those of you who may be restricted because of your work load. finances studies or the Miami Chamber of Commerce, just give a listen to THE KNIGHTSBRIDGE STRINGS and believe me, you are in lei-land! ALOHA!!
About THE KNIGHTSBRIDGE STRINGS:
Many people in the music business in the 1, S.A and abroad. will tell you that the finest -big string. big orchestra" sounds come only-from Englano and Hollywood, and so. Monument Records is very proud to present one of those orchestras-unique for their sound and styling-THE KNIGHTSBRIDGE STRINGS.
With the talented Messrs. justis Lockyer and Owen charting the very lush and great sounds of The Knightsbridge Strings. will hear a string section comprised of 32 violins sin violas. six cellos and two. siring hassles] plus-woodwinds. horns and full rhythm…adding up to 62 pieces 01 top musicianship ! Executive producer Dick Rowe. Recording Supervisor Tony Hatch and Recording Engineer Bob Auger-made use of the unusual sound they could capture by not going to a -proper" recording studio-but by using London-, nearby Wembley Town Hall, Thus THE KNIGHTS-BRIDGE STRINGS were -born". giving birth to a sound a style and a mood – that the world's record land lapel buyers will cherish for years to come. Not even mini-skirted Hawaiian hula dancer could resist, THE KNIGHTSBRIDGE STRINGS and their BIG orchestra sound. Welcome to "TKSECI"-THE KNIGHTSBRIDGE STRINGS FAN CLUB INTERNATIONAL, the world's fastest-growing booster organization for musicians anywhere. There's a reason-so listen and you will apply for membership. too!