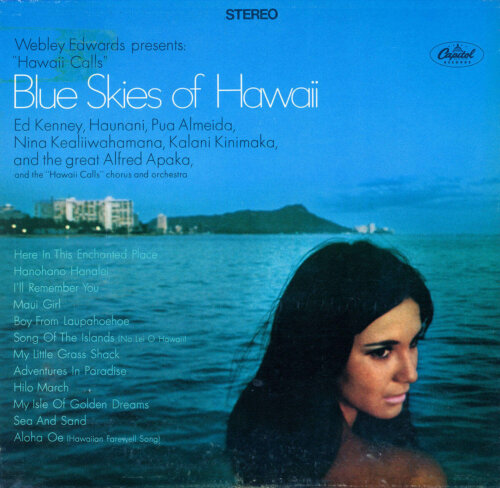 Album Title: Hawaii Calls – Blue Skies Of Hawaii
Artist(s): Various Artists
Year: 1967
Genre(s)/Style(s): Hawaiian, Hapa Haole
Track Listing:
Here In This Enchanted Place – Webley Edwards; Alfred Apaka
Hanohano Hanalei – Webley Edwards; The Chorus
I'll Remember You – Webley Edwards; Kalani Kinimaka; Nina Kealiiwahamana
Maui Girl
The Boy From Laupahoehoe – Webley Edwards; Ed Kenney
Song Of The Islands (Na Lei O Hawaii) – Webley Edwards; The Chorus
My Little Grass Shack – Webley Edwards; The Chorus
Adventures In Paradise – Webley Edwards; Haunani
Hilo March
My Isle Of Golden Dreams – Webley Edwards; Alfred Apaka
Sea And Sand – Webley Edwards; Pua Almeida
 Aloha Oe (Hawaiian Farewell Song) – Webley Edwards; Haunani; The Chorus
Note: Something off? Please submit any album corrections in the comments.
Liner, Listening & Album Notes:
Songs from the enchanted islands of the Pacific by the great stars, chorus and orchestra of the "Hawaii Calls" Show
Liner Notes:
OFTEN, AS YOU FLY to Hawaii from the mainland, stretches of the sky beneath are fleecy white with clouds so dense you cannot see the Pacific, far below. Then your plane descends and your eyes are astonished by a world more brilliantly hued than you could possibly have imagined or remembered. Hawaii lavishes upon the senses a rapturous abundance of rainbow colors, intensified by flower fragrances, soft sea breezes, beauty, friendliness, and romance. And caressing music everywhere that alluring music that has for generations spoken to the rest of the world of the charm and magic of the Islands. In this album, Webley Edwards presents the great stars of "Hawaii Calls," singing and playing the songs of Hawaii …songs that sing of all the unforgettable Island gardens of beauty of Oahu and Maui and the big island of Hawaii . of Hanalei and Hilo and Laupahoehoe, to name just a few. Here are Ed Kenney, Haunani, Pua Almeida, Nina Kealiiwahamana, Kalani Kinimaka, and the great Alfred Apaka, with the "Hawaii Calls" chorus and orchestra, performing the music that is your passport for a return to paradise … a visit, once again, to those glorious islands that lie anchored beneath the blue skies of Hawaii.
Produced by WEBLEY EDWARDS and BILL MILLER
Cover Photo/George Jerman