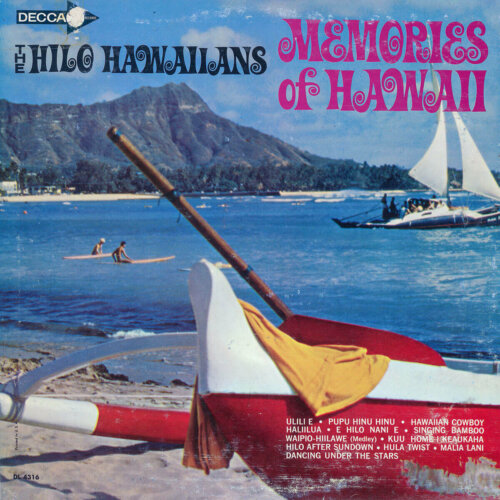 Album Title: Memories Of Hawaii
Artist(s): The Hilo Hawaiians
Year: 1962
Genre(s)/Style(s): Hawaiian, Hapa Haole
Track Listing:
Ulili E
Pupu Hinu Hinu
Hawaiian Cowboy
Halilua
E Hilo Nani E
Medley: Waipio; Hiilawe
Kuu Home I Keaukaha
Singing Bamboo
Hula Twist
Dancing Under The Stars
Hilo After Sundown
Malia Lani
Note: Something off? Please submit any album corrections in the comments.
Liner, Listening & Album Notes:
Liner notes:
We're sure you've often wondered, as we have, whether much of the "Hawaiian" music you hear is the same music most often performed and enjoyed by Hawaiians themselves, or if it is—like a British automobile with left-hand drive—"for export only."
This delightful new album should answer the question for good and for all. Recorded in Hawaii, it features the voices and instrumental artistry of the Hilo Hawaiians—one of the most authentically traditional folk groups to be found anywhere in the Islands.
MEMORIES OF HAWAII is a representative showcase of the songs and styles of performance most popular in Hawaii today. You will hear some wonderful slack-key (ad lib) guitar solos, a style picked up by the early Hawaiians from the sailors who frequented the Islands. And you will hear—because they are becoming increasingly more popular among Hawaiians —songs with an unmistakable Mainland flavor (Hula Twist, Hilo After Sundown, Singing Bamboo, Dancing Under The Stars), and the sound of the modern electric guitar and vibraharp combined with the more traditional Hawaiian instruments.
MEMORIES OF HAWAII provides some beautiful nostalgia for those who have been there… and for those who have not, it's a colorful preview of what you might expect to find there. And for everyone, it's one of the most exciting musical experiences to come your way in some time.