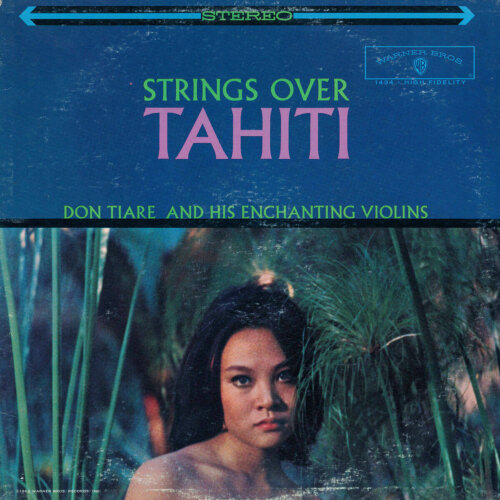 Album Title: Strings over Tahiti
Artist(s): Don Tiare And His Enchanting Violins
Year: 1962
Genre(s)/Style(s): Polynesian, Jazz/Easy Listening
Track Listing:
Pagan Love Song
Moya
Tangi Tahiti
 Hiro E
Manu Rere
Tiare
The Moon of Manakoora
My Tane
E Tiare O Tahiti
Beautiful Moorea
E Hina
Farewell (Maururu A Vau)
Note: Something off? Please submit any album corrections in the comments.
Liner, Listening & Album Notes:
Liner notes:
Michael Goldsen, long-time Tahiti enthusiast who produced this album for Warner Bros. Records, describes the background of "Strings Over Tahiti."
Great compositions are written by inspiration.  That is why Tahiti has such a rich repertoire of enchanting songs. Many years ago, an American antique expert, Richard Gump, spent some time in Tahiti, and was so charmed by its exotic attractiveness that he wrote "My Tane" with Augie Goupil, the late, famed Tahitian composer of many South Seas favorites. Dick was present during my last trip to Tahiti, as was Willie Goupil, brother of the late Augie, and they were overwhelmed by the sound of violins playing their immortal song.
For this musical reunion in Tahiti, I invited some friends, like Dick and Willie, over to my beach house, and while sipping drinks on our patio overlooking Papeete Harbor and watching the sun set behind Moorea, in the background we were serenaded by the phonograph, with "Strings Over Tahiti." I had brought a test pressing of the album along with me to play for them, and when they heard their own, beloved songs played by the Tiare Strings for the first time, they were literally transfixed, and stood there with tears in their eyes, singing the words to these famous melodies.
Eddie Lund, who has lived in Tahiti for over thirty years, and is well known as the composer of "Hiro E," "Farewell," and many other songs in this album, was also present at our reunion in Tahiti, and overjoyed to hear some of his unforget-table melodies played by this fabulous orchestra, The Don Tiare Strings.
The ballad music of Tahiti is basically romantic French music that has been hypnotized by the tropical splendor of Tahiti and the sentimental tenderness of the Tahitians. Wherever you go, you hear music on this island. It may be the throbbing of drums and the strumming of guitars and ukuleles to accompany their unforgettable dances, or it may be a rich voice raised to sing a ballad of love. Now, these same sensuous songs are enhanced by the sweeping bows of violins, to enlarge their beauty and fame. The Don Tiare Orchestra has truly triumphed as these songs' own composers can tell you — in transposing the music of Tahiti from its traditional sound of guitars and ukuleles, to the magnificence of one of the largest string orchestras ever assembled.