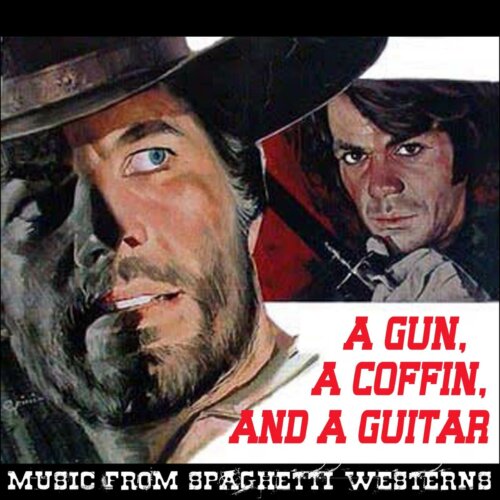 Album Title: A Gun, a Coffin, and a Guitar
Artist(s): Various Artists
Year:
Genre(s)/Style(s): Soundtrack, Other
Track Listing:
Disc 1
Django (main title song – English film version)
Blindman (main titles)
Death Rides a Horse (main titles)
Il Grande Silenzio (Restless)
Buon Funerale Amigos…Paga Sartana (Pt. 6)
Sepoltura
Faccia a Faccia (Titoli) (main titles)
Una Pistola per Ringo (Main Titles – Instr.)
Vigliacchi Si Diventa
Mystic and Severe
Il Ritorno di Ringo (Main Titles – Instr.)
Lonely Horseman
E Per Tetto Cielo di Stelle (main titles)
Faccia a Faccia (Intermezzo)
Un Esercito Di Cinque Uomini (main title)
Vamos a Matar Compañeros (main titles)
Sequence 2 (main titles)
Sheriff Carson
Cemetery without Crosses (main titles – sung by Scott Walker)
Disc 2
Texas Goodbye (main titles- sung by Don Powell)
Navajo Joe (main title)
The Big Gundown
Titoli (main titles)
Gli fumavano Le Colt… Lo Chiamavano Camposanto (Seq. 4)
Anger and Sorrow
Indio Black (main titles)
Titoli (main titles)
Un Uomo Chiamato Apocalisse Joe (Seq. 1)
Lo Chiamavano Tresette, Giocava Sempre Col Morto (Seq. 8)
Main Theme Reprise
Uomo Avvisato, Mezzo Ammazzato (Seq. 5)
Ringo Come to Fight
And Crows Will Dig Your Grave (Seq. 3)
Libertad (section)
Sequences
Un Uomo, Un Cavallo, Una Pistola
Buon Funerale Amigos! …Paga Sartana – Seq. 7
Lucas
Gli fumavano le Colt… Lo Chiamavano Camposanto (Seq. 1)
Main Theme (sung by Stephen Boyd)
Sequence 1
Note: Something off? Please submit any album corrections in the comments.