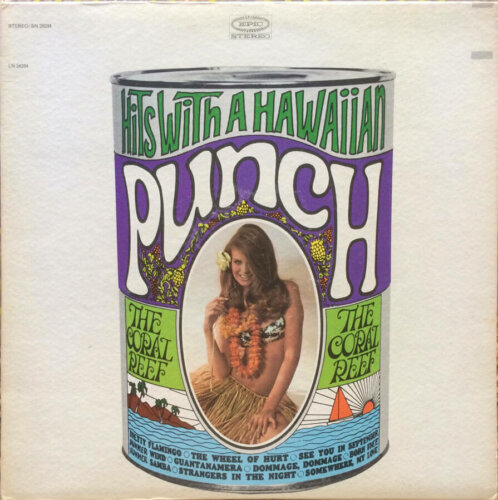 Album Title: Hits With a Hawaiian Punch
Artist(s): The Coral Reef
Year: 1967
Genre(s)/Style(s): Hawaiian, Hapa Haole, Jazz/Easy Listening, Lounge, Other
Track Listing:
Born Free (From The Columbia Release Born Free) 2:14
Pretty Flamingo 2:17
Somewhere, My Love (Lara's Theme From Doctor Zhivago, An M-G-M Picture) 2:16
Dommage, Dommage (Too Bad, Too Bad) 2:13
Summer Wind 2:36
Strangers In The Night (A Theme From The Universal Picture A Man Could Get Killed) 2:21
See You In September 2:23
The Wheel Of Hurt 2:45
Summer Samba (So Nice) 2:20
Guantanamera 3:00
Note: Something off? Please submit any album corrections in the comments.
Liner, Listening & Albums Notes:
Liner notes:
Not since some anonymous genius first topped o slab of apple pie with a ball of vanilla ice cream has there been such a great combination. Hits With a Hawaiian Punch…today's most popular hits played with the unmistakable air of trade winds, frangipani and gross skirt propelled by a great poir of hips.
Here ore new Hollywood hits: "Born Free" (From the Columbia Release Born Free), "Somewhere, My love " (Lora's Theme from Doctor Thivago, on MO-M Picture), "Strangers in the Night" (A Theme from the Universal Picture A Mon Could Get Killed), as well os current favorites like "Dommage, Dommage" (Too Bad, Too Bad), "Summer Samba" (So Nice), and "Guantanamera." The Coral Reef, conducted by Chico O'Forrill, turns them all into a musical luau you're not soon to forget.