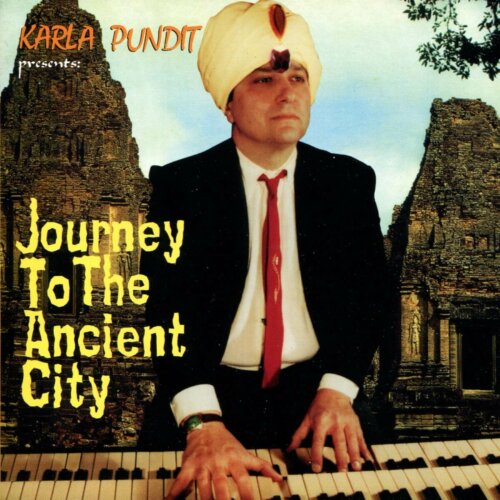 Album Title: Journey To The Ancient City
Artist(s): Karla Pundit
Year: 1996
Genre(s)/Style(s): Exotica, Novelty, Other
Track Listing:
Jungle Path / The City
Dance Of The Virgins
The Lagoon At Midnight
Hall Of Snakes
Song Of Celebration
Procession Of The Animal Priests
The Ruins At Sunset
Note: Something off? Please submit any album corrections in the comments.
Liner, Listening & Album Notes:
A (possible) novelty album of sorts, parodying (or paying tribute to) the style & pseudo-mystique of Korla Pandit. While the musical style isn't completely in line with Korla Pandit's style; the work of the album has a nice, escapist & pseudo-mystical vibe that makes it very enjoyable in its own right.
A more recent tribute/recreation of Korla Pandit's sound can be found in the track on the "Yol Gorro" tracks of Pepe Deluxé's Queen of the Wave album.