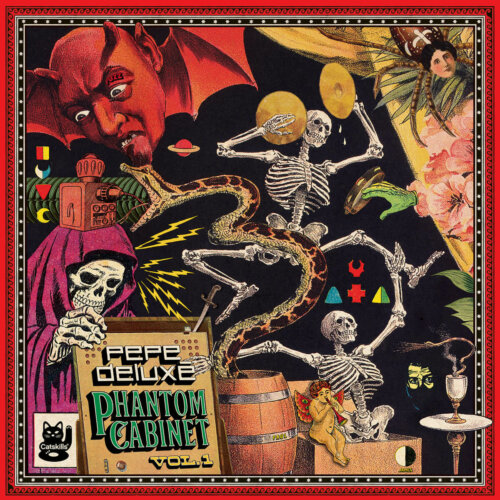 Album Title: Phantom Cabinet Vol. 1
Artist(s): Pepe Deluxé
Year: 2021
Genre(s)/Style(s): Exotica, Other
Track Listing:
General Deluxé 06:51
Girl from Satanville ft. Demon Fuzz 04:03
A Morning Beautiful 06:47
22nd Century Dandy 05:10
Big Fat Woodpecker 03:06
Halls of Kalevala 05:29
Fire Up the Crimson Lion 05:27
Sommarland 04:13
Placebo PCB-1 02:00
Tyger Boy, Rocket Boy 06:51
Note: Something off? Please submit any album corrections in the comments.
Liner, Listening & Album Notes:
From Bandcamp liner notes:
Pepe Deluxé [is] proud to present their new album "Phantom Cabinet Vol. 1", [their first, since their] 2012 masterpiece "Queen Of The Wave"
Phantom Cabinet Vol. 1 is inspired by the golden age of records, and it features the most insane collection of instruments on any album – or anywhere – ever! From the largest to the loudest musical instrument in the world, from Alexander Bell's human ear recorder to a Tibetan human skull drum, from the oldest synthesizer in the world to a synthesizer designed for group sex, from da Vinci's drum machine to God's Trumpet, captured with an occult Soviet machine …and everyone's favourite the world's largest cowbell. This peculiar assemblage contains sounds from dozens of incredible and extraordinary instruments, recorded at various museums, universities, and private collections around the world.