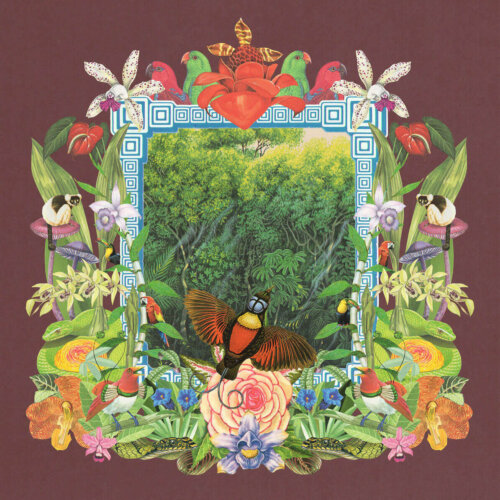 Album Title: Botanica Dream
Artist(s): Monster Rally
Year: 2022
Genre(s)/Style(s): Exotica, Cocktail Music, Other
Track Listing:
Golden Shores – 02:43
Flowers in the Air – 02:17
Lily Pad – 02:15
Through the Jasmine – 02:22
Grassy Crystals – 02:11
Imaginary Palms – 03:09
Honeysuckle – 03:14
Torchlit Cenote – 03:02
Moon Flower Bloom – 03:05
Isle Eyes – 02:19
Island Hopping – 03:43
Fever Dream (We'll Never Forget This Place) – 02:25
Willows Hymn – 01:47
Phthalo Blue – 03:17
McGilacuddy – 02:13
Hanging Gardens – 03:36
Note: Something off? Please submit any album corrections in the comments.
Liner, Listening & Album Notes:
Liner notes from bandcamp listing:
Botanica Dream is the 8th studio album from visual and musical artist, Monster Rally. Originally conceived as a series of vignettes tied together, Monster Rally (aka Ted Feighan) was inspired by dreams, both physical and imaginary, in which he takes you on an exotic journey to lush locales.

Opening with the track, Golden Shores, Feighan evokes a youthful adventure, driving up the California coast and watching the scenery change from tropical to mountainous. As you listen, you can almost feel yourself in the backseat with the windows down. Lily Pad, the third track on the album, brings listeners to a swampy marshland at dusk, watching the wildlife emerge for their nightly rituals. Finally ending with Hanging Gardens, a nod to his time in Asia, Feighan elicits a stroll through an abandoned temple, long given over to nature and the wildness of the tropics.

Equally inspired by both the golden age of hip hop and 60s Exotica, Monster Rally conceived of Botanica Dream nearly a year ago when revisiting his collection of records sent back from his past travels. As with all of Feighan's releases the process of sculpting the visuals mirrors the musical creation, using found images to produce fanciful collage. With the cover beckoning you to walk into this dreamscape, you'll long to join him on the journey.