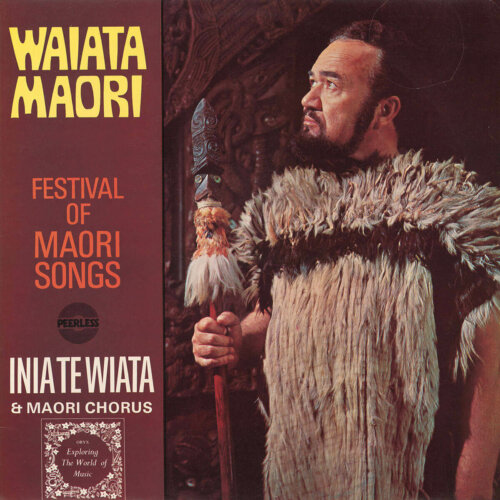 Album Title: Waiata Maori: Festival Of Maori Songs
Artist(s): Inia Te Wiata; Maori Chorus Of The New Zealand Opera Company
Year: 1966
Genre(s)/Style(s): Polynesian, Other
Track Listing:
Haere Mai (Chant And Song Of Greeting)
Hokihoki Tonu Mai
Pokarekare Ana
Te Arawa E
E Noho E Koroki – E Rere Taku Poi – E Hine Hine E – Haere Ra E Hine – Me He Manu Rere
E Te Iwi E – Pakia Kia Rite
Karu Karu
He Paru Tai Tama – E Rere Taku Poi – E Hine Hine E – Haere Ra E Hine – Me He Manu Rere
E Tangi Ana Koe (Hine E Hine)
Tahi Nei Taru Kino
Aue Te Iwi E
E Pari Ra
Haere Ra E Hoa Ma – Maringi Noa – E Rere Ra Te Matangi (Farewell Bracket)
Note: Something off? Please submit any album corrections in the comments.
Liner, Listening & Album Notes:
Liner notes:
Inia Te Wiata's Festival of Maori Song
WAIATA MAORI
(MAORI SONGS)
INIA. TE WIATA (bass) and the Maori Chorus of the New Zealand Opera Company Featuring Isobel Cowan (soprano) and Joshua Gardiner (tenor) Peter Cowan (guitar). Robin Ruakere (ukelele).
Here is Maori singing at its very best—recorded in this album by the most famous of all Maori singers, with a choral group carefully chosen from the best available Maori singers in the whole of New Zealand. These artists were assembled by the New Zealand Opera Company for their enterprising and tremendously .successful production of "Porgy and Bess", with Inia Te Wiata in the title role of Porgy. The production made history in being the first staged with a non-Negro cast, and it has played to enthusiastic capacity audiences throughout New Zealand and Australia.
Inia Te Wiata is a singer known and admired on every continent. In Moscow he was accorded a standing ovation ; in London he has long been a favourite bass at the Covent Garden Opera House; he delighted South African audiences—Afrikaaners and Bantu alike—in "Show-boat" ; he successfully starred on Broadway as "The Most Happy Fella" ; and his moving portrayal of the crippled Porgy will never be forgotten by many thousands of Australians and New Zealanders. Yet, through all his success in the opera houses, concert halls, and theatres of the world, Inia has held close to him his maoritanga the language, culture, and folklore of the Maori people. He is an expert Maori carver and has recently devoted himself to the mighty .task of carving the intricately-patterned pillars which will grace the inner portals of New Zealand House in London, recording in the massive totara timbers elements of those age-old stories which are the basis of the legends and songs of his people. When invited to select the songs for this album and record them with members of the "Porgy and Bess" Maori cast, his response was enthusiastic and immediate. The results speak for themselves and it is only necessary to add that all the songs were chosen from material unquestionably Maori in origin, and arranged—for solo voice and chorus, for chorus only, or as duets—with many an imaginative touch, by Inia Te Wiata himself; also that he personally directed all rehearsals and set the speeds (tempi) of the songs and conducted the performances during the recording sessions.
The Coming of the Maori :
The Maori navigator Kupe is traditionally believed to have dis-covered New Zealand about 950 A.D., sailing a great canoe south-westwards through the Pacific Ocean from "Hawaiki" in Central Polynesia. Other voyagers followed his path, and the earliest Maori settlement seems to date from 1150. However, it was about 1350 that the main migration of the Maori people took place, a remarkable mass exodus from "Hawaiki"—now thought to be Ra'iatea (Rangiatea in Maori tradition) of the Leeward Group of the Society Islands—across three thousand miles of open sea. The ocean-going canoes of the Great Fleet were vessels of seventy to a hundred feet in length, and their exploits are enshrined in the rich tapestry of Maori legend. All Maoris today take pride in tracing their ancestry back to one of these canoes, and it is hardly surprising that many of their songs are built around this theme, or that they contain frequent references to the names of the traditional canoes of the Fleet period : Tainui, Te Arawa, Mataatua, Kurahaupo, Tokomaru, Aotea, Takitimu, Horouta.
A few of the songs in this album retain traces of the monophonic chanting of early Maori music ("Haere mai" ; Toia mai to Waka" ; "Kara Karu"), while "Kamate Kamate !" is an example of the traditional haka, or shouted posture dance. The other songs are cast in the western idiom, and it has been thought permissible to provide these with a rhythmic accompaniment from guitat and ukelele, instruments that have been widely adopted among Maori entertainers for this purpose.
HAERE MAI
This opening song of welcome (one of many by this title) is based on an old chant. It begins with the call "Haere mai" from the women answered by the shouted "Haere mai !" from the men, and these give place to a strongly rhythmic version in harmony.
HOKIHOKI TONU MAI
A famous love song with words and music by Te Rangipaia Poata, a fine soprano of the past, this beautiful melody expresses longing for the return of a loved one.
POKAREKARE ANA
An old and well-known love song which originated on the East Coast of the North Island and has been adopted with notable success by the Arawa people of Rotorua. Its "Troubled Waters" are thought to refer to Lake Rotorua.
TE ARAWA E
A moving plea from the younger generation of the tribe to the elders of Arawa, to help them to do what is good and what is right by in-structing them fully and well in the truths and implications of their Maori culture.
E NOHO E KOROKI TOIA MAI TE WAKA UIA MAI KOIA HOEA RA TE WAKA NEI—KAMATE! KAMATE!
Inia Te Wiata arranged this sequence of songs around the favourite canoe theme of the Maori. It begins with a song in praise of Koroki, the late Maori King; then follows an ancient canoe hauling chant or ngeri, generally used today as a chant of welcome to visitors, who are likened to the canoe drawn to the courtyard of their hosts ; next comes the canoe action song "Uia Mai Koia" as performed by the Arawa people of Rotorua, naming the Arawa canoe and other ships of the Great Fleet (the East Coast version of this song is called "Paikea" after a celebrated ancestor); this leads to the graceful poi song, "Hoea Ra Te Waka Nei" in which the women offer their 'canoe of peace' in loving tribute to the men who have fallen in battle; finally there is the triumph-ant haka taparahi (shouted posture dance) "Kamate! Kamate", said to have originated with the warrior chief Te Rauparaha, and used today on all ceremonial occasions.
E TE IWI E—PAKIA KIA RITE
An action song in two sections composed by the late Kingi Tahiwi of Otaki in 1937, this contrasts the need to reflect on the words of a leader with translating into practice his injunction to spread joy among others by example.
KARU KARU
This modern fishing chant (which the Rev. Kingi Ihaka has also noted in use as a Rarotongan hymn tune) begins with an invocation to the gods for success; then follows the baiting and throwing out of the line; and finally a description of the struggle between man and fish and the jubilant singing as the catch is landed.
HE PURU TAI TAMA—E RERE TAKU POI —E HINE HINE E—HAERE RA E HINE—ME HE MANU RERE
This bracket has been arranged by Inia Te Wiata to provide an amusing light dramatic sequence. Kingi Tahiwi's "He Puru Tai Tama" has the young bloods bragging of their manliness and good looks, while the girls make a show of ignoring them with "E Rere Taku Poi" (`My Poi keeps twirling') ; in "E Hine Hine E" the men call to the girls CO you lovely creatures') and they answer (`Yes, all you lads are handsome, but . . . !'); the jaunty "Haere Ra E Hine" gives the boys their chance to say : 'Very well, we'll leave you now . . . ! ; then finally both groups drop their banter as they combine to sing the very popular "Me He Manu Rere" (`Had I the wings of a bird I would span any distance to be at your side'). E TANGI ANA KOE Known also as "Hine E Hine", this lovely song was composed by the late Princess Te Rangi-pae, and is used both as a love song (as here) and a lullaby.
TAHI NEI TARU KINO
This famous song expressing the joys and sorrows of love, was written by the late Paraire Tomoana of N gati-Kahungunu (a tribal name), but like many another song, it owes much of its popularity to the Arawa people, with whom it has always been a favourite.
AUE TE IWI E
Known also as "E to Patupaiarehe e", this song by Kingi Tahiwi begins by asking the Maori people to heed the Patupaiarehe—the Fairy People of the Mists—then goes on to exhort the people of all tribes to strive for the betterment of the Maori race.
E PARI RA
Paraire Tomoana wrote the words and adapted the tune from a popular piece of the time known as the Blue Eyes Waltz. Though originally intended as a lament for a soldier killed in battle, it is now often used as an action song or farewell song.
HAERE RA E HOA MA—MARINGI NOA E RERE RA TE MATANGI
Inia Te Wiata arranged these three songs as a farewell bracket, following' the sequence suggested by Alan Armstrong and Reupena Ngata in their book "Maori Action Songs" (A. H. & A. W. Reed). The melodies are especially beautiful and linger in the mind like the memory of a departed friend. Farewell, dear friends, The tears are falling. My love falls like rain On the open sea . . .