It seems that Hollywood has a penchant for producing curiously similar films at about the same time. Oftentimes, within the same year (or so) two movies will be released that share almost identical storylines, themes and/or subjects. While there are any number of reasons that this might occur; it's usually quite clear that there can be only one champion among the films
This section of the site will serve as the online compendium for all such "look-alike" films — a place to research, review & discuss Hollywood's doppelgänger films.
While we're starting off with just a few films, you can scan the "Coming Soon" section below for the battles that we have set for the future.
YOU see the statistics! YOU discuss the films! YOU cast your vote & decide their fate!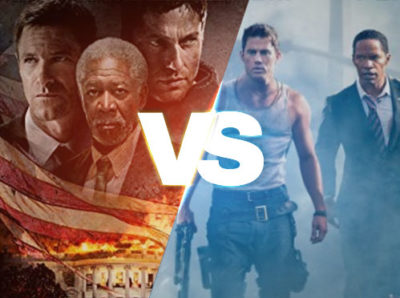 The 'the President seems like the easiest target for terrorists' films of 2013
read more
Coming Soon
The Mercy vs. Crowhurst

The 'Donald Crowhurst in a doomed around-the-world boat race' films of 2018

Darkest Hour vs. Dunkirk

The 'get out of Dunkirk' films of 2017

Florence Foster Jenkins vs. Marguerite

The 'tone-deaf socialite becomes a successful singer… of sorts' films of 2015 & 2016

Hercules vs. The Legend of Hercules

The 'Hercules… obviously…' films of 2014

Life After Beth vs. Warm Bodies vs. Burying the Ex

The 'romzomcoms (romantic zombie comedies)' of 2013 & 2014

Oblivion vs. After Earth

The 'loner in a post-apocalyptic Earth' films of 2013

The World's End vs. This Is The End

The 'end of the world comedies' of 2013

Hitchcock vs. The Girl

The 'Alfred Hitchcock biopics' of 2012

Friends With Benefits vs. No Strings Attached

The 'casual sex that becomes something more' films of 2011

Cop Out vs. The Other Guys

The 'hard-boiled cop paired with a comedian' films of 2011

Battle: Los Angeles vs. Skyline

The 'Of course the alien invasion takes place in LA' films of 2010 & 2011

Despicable Me vs Megamind

The 'animated evil genius becomes not so evil' films of 2010

The A-Team vs. The Losers

The 'rag-tag dishonored military teams seek redemption' films of 2010

The Book of Eli vs. The Road

The 'walking through a post-apocalyptic hellscape' films of 2009 & 2010

Paul Blart: Mall Cop vs. Observe and Report

The mall security films of 2009

Inkheart vs. Bedtime Stories

The 'childrens' stories come true' films of 2008

Valkyrie vs. Defiance

The 'small group against the Nazis' films of 2008

Zodiac vs. The Zodiac

The 'Zodiac Killer' films of 2006 & 2007

Psych vs. The Mentalist

The 'fake-psychic, pseudo-detective' TV shows of 2006 & 2008

Capote vs. Infamous

The Truman Capote films of 2005 & 2006

Madagascar vs. The Wild

The 'New York Zoo animals meet their natively wild counterparts' animated films of 2005 & 2006

The Cave vs. The Descent

The 'just when you thought it was safe to go into a deep, dark hole' horror films of 2005

Garden State vs. Elizabethtown

The 'a funeral & a girl change everything' films of 2004 & 2005

Chasing Liberty vs. First Daughter

The 'President's daughter goes on a date' films of 2004

The Ring vs. Feardotcom

The 'if you see this you're going to die' films of 2004

Troy vs. Alexander

The 'Greek epic' films of 2004

Finding Nemo vs. Shark Tale

The 'father-son aquatic misadventure' animated films of 2003 & 2004

The Score vs. Heist

The 'aging criminals' films of 2001

Red Planet vs. Mission to Mars

The 'space mission gone awry on Mars' films of 2000

The Matrix vs. eXistenZ vs. The 13th Floor

The 'virtual reality as another world' films of 1999

The Truman Show vs. EdTV

The 'foreshadowing of reality TV' films of 1998 & 1999

Deep Rising vs. Virus

The 'something is lurking on this abandoned boat' films of 1998 & 1999

Knock Off vs. Rush Hour

The 'unlikely partners cop films' of 1998

Antz vs. A Bug's Life

The' loner ant saves the colony' films of 1998

Saving Private Ryan vs. The Thin Red Line
Pre(fontaine) vs. Without Limits

The Steve Prefontaine Films of 1997 & 1998

Braveheart vs. Rob Roy

The 'Famous Rebels of Scotland' films of 1995

Tombstone vs. Wyatt Earp

The 'Wyatt Earp' Films of 1993 & 1994

Honeymoon in Vegas vs. Indecent Proposal

The 'rich guy pays to be with a financially destitute married woman' films of 1992 & 1993

Christopher Columbus: The Discovery vs. 1492: Conquest of Paradise

The 'Christopher Columbus "discovers" America' films of 1992

Lambada vs. The Forbidden Dance

The 'Supposedly NSFW Dance' films of 1990

Abyss vs. Leviathan vs. Deep Star Six

The 'deep-sea paranormal' films of 1989

Turner & Hooch vs. K-9

The man-dog buddy cop films of 1989

Like Father Like Son vs. Vice Versa vs. 18 Again

The 'parent & child change bodies' films of 1987 & 1988

Platoon vs. Full Metal Jacket

The 'morality & ethics in the Vietnam war' films of 1986 & 1987

Top Gun vs. Iron Eagle

The melodramatic jet fighter films of 1986

Weird Science vs. My Science Project vs. Real Genius

The 'teenage science prodigy finds trouble' films of 1985

The Deer Hunter vs. Apocalypse Now

The 'war is hell, but the Vietnam War was hellier' films of 1978 & 1979

Dr. Strangelove vs. Fail Safe

The nuclear paranoia films of 1964

Harlow vs. Harlow

The 'identically-named Jean Harlow' films of 1964

Oscar Wilde vs. The Trials of Oscar Wilde

The 'trial that destroyed Oscare Wilde' films of 1960