Thank you, Buzzfeed, for including the Museum of Food Anomalies in your list of  "20 Weird, Wonderful, And Strangely Specific Museums You Have To Visit"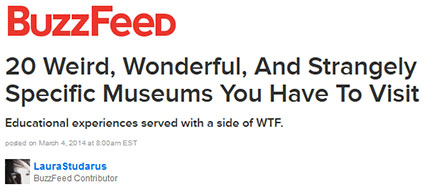 Visit the Museum of Food Anomalies for yourself!
The Hanttula MicroZine
Bringing you semi-regular dispatches of click-worthy entertainments, art, interesting facts & more!
Broadcasting via Hanttula.com since 2001 with limited characters & deep appreciation.

If you like what you see, spread the word.